Sharm El-Sheikh
Worldtraveltime Now Is Giving You An Idea About One Of The Most Attractive Places All Over The World, It Is Sharm El-Sheikh & Na'ama Bay.
Sharm El-Sheikh, Long Ago, Is Known As "Sharm", But It Is Actually A Collection Of Attractions With Differing Personalities.
The Town's Name First Appears On Maps As Long Ago As The 18th Century, But Until 20 Centuries Later, It Was A Small Fishing Village Which Few People Knew.
You Might Like To Know That In Arabic The Word Sharm Means "Bay" & El-Sheikh Means A Wise Old Man.
It Is About 55 Km. From Ras Mohammed & Bout 330 Km. From Suez.
Sharm El-Sheikh Now Is Very Popular Year-Round Resort Which Is Hot & Sunny In The Summer, But Still Warm & So Pleasant In Winter When Europe Can Be Very Cold & Depressing.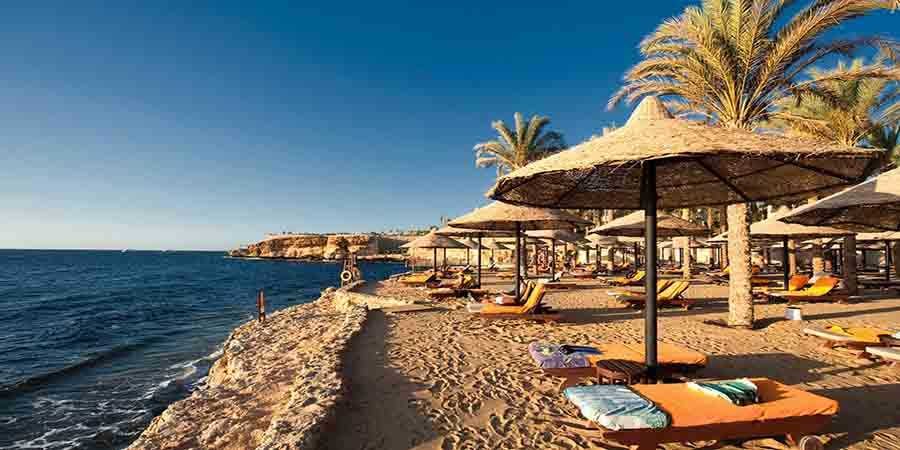 The Great Thing Is That, Whatever You're Looking For On Holiday, You'll Find It In Sharm El-Seikh, Whether It's The Natural Wonders Of Land & Sea, Sun & Relaxation, Or Night Life.
The Area Consists Of Downtown Sharm El-Maya, Na'ama Bay & Sharks' Bay Further Up The Coast.
Sharm El-Sheikh Is The Most Popular Resort In South Sinai & A Perfect Base From Which To Explore The Region's Coastline & Rugged Interior.
You Can Dive, Snorkel, Or Paddle In The Water Of The Red Sea At Ras Um Sid, Turtle Bay & The Strait Of Tiran.
It Is The Superb Diving Which Has Given The Water Around Here Their Worldwide Reputation & It Is Considered, By The Experts As The Best Diving Site In The World.
The Underwater Life Is Very Much Part Of The Attraction Of Sharm El-Sheikh.
There Is A Huge Choice In Good Quality Diving Gear Shops, Boat Trips & Qualified Dive Schools.
There Are More Than 250 Coral Reefs Here & The Estimate Of Species Of Fish Is Over 1000. You Can See Many Beautiful Fish.
Take The Plunge & Try Snorkeling Or Scuba Diving, You'Ll Be In Safe Hands. Take A Camel Trek Into The Desert To Visit Beduin Villages, Spectacular Oases, & The Mangrove Forests Of Nabaq.
Na'ama Bay Is A Nice Place Especially When The Sun Sets Or Rises Which Is Part Of The Way Of Life In Hot Countries. When The Sun's Up, Enjoy Sea, Sand & Scenery, When Night Falls, It's Time To Socialize, Party, & Eat At Leisure.
The Promenade At Na'ama Bay Is A Hive Of Activity, The Cafes, Restaurants & Bars Offer Good Value & A Lovely Atmosphere. Prices Of Food & Drinks Are Good. Sharm El-Sheikh Has Built A Reputation As One Of The Most Popular Conference Venues In The World. Its Easy Access From Major Capitals, In Addition To Great Facilities & High Service Standards Mean That It Has Become A Firm Favorite.
Sharm El-Sheikh Was Described As The "City Of Peace" Because Of The Many Conferences Here.
Many Business Companies Also Choose To Hold Conferences Here With Some Time Off In The Sunshine.
Sharm El-Sheikh Has Also Become A Real Magnet For Golfers. There Are Fine Golf Courses, Up To International Standards At Maritim Jollie Ville.
Whether You Are Flying Direct To Sharm Or Via A Larger Airport Like Cairo, You'll Find That Connections Work Well.
You Will Find That Most Hotels Have Efficient Tour Desk That Can Organize Your Trips On Land & Sea.
There Is A Regular Ferry Service Runs Between Sharm & Hurgada Which Gives You A Ood Chance To See Another Red Sea Resort.
Many Visitors Include A Trip To St. Catherine's Monastery & Mount Sinai During Their Stay.
Where To Stay :
* Marina Sharm Hotel
* Alghazala Tourist Village
* Al-Fayrouze Village
Worldtravettime Recommend Sharm El-Sheikh As Great Resort If You Will Visit Egypt.