The Oases in Egypt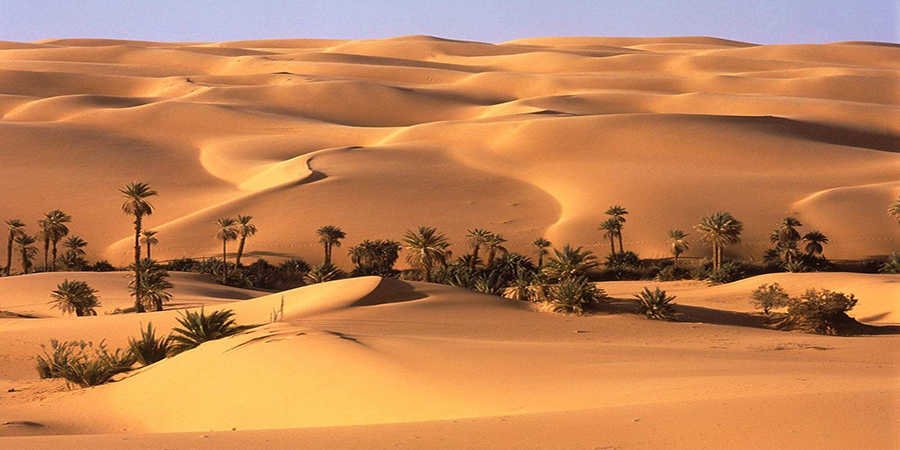 Egypttraveltips.com offers to you areas of outstanding natural beauty.
The western desert in Egypt includes many oases; Baharia, & the four New Valley oases: Kharga, Dakhla, Farafra, & Siwa.
Over there you will see many things make stunning photographs & magnificent views during the journey.
1- Bahariya
Set in a depression Bahariya Oasis is surrounded by black hills. Most of the villages & cultivated land can be viewed from the top the 50-metre-high jebel al-Miysrah, together with the massive dunes.
Wildlife is plentiful, especially birds such as wheatears; crops include dates, olives, apricots, rice & corn.
Bawiti is the largest village in the oasis; its hillside quarter overlooks lush palm groves irrigated by Ain al-Beshmo, a natural spring from Roman times.
The neighboring village of al-Qasr was built on the remains of a 26th dynasty temple.
Nearby, at Qarat Hilwah, you can still see tombs with paintings.
There are mineral & sulphur springs including Bir Mathar & Bir al-Ghaba.
Bahariya Oasis also is known, among local Bedouin for informal music & poetry recitals.
Travelers can now go on either to Siwa, via a new road, or to Farafra, taking in a night in the White Desert.
2- Kharga
Kharga used to be the last but one stop on forty Days Road, a trade route between North Africa & the tropical south.
Today Kharga oasis is the biggest New Valley oasis.
Temple of Hibis, outside the main centre, dating back to the 6th century BC, built on the site of settlement of Saites, Persians & Ptolemies. It is one of few Persian monuments in Egypt, it is well-preserved with paintings.
The Necropolis of al-Bagawat, 10 km. away from Hibis, contains more than 260 mud-brick chapels with Coptic murals, including the Chapel of Peace & the Chapel of the Exodus.
Pharaonic monuments include al-Ghwaytah Temple which dates from about 520 BC.
The thermal springs at Bulak & Nasser villages, are famous for water temperatures of up to 43 C, suitable for the treatment of rheumatism & allergies.
Baris Oasis, further south, is the largest settlement in Kharga. There are Ancient monuments include the Roman Temple of Dush dedicated to Isis & Serapis.
3- Dakhla
Dakhla Oasis is dominated on its northern horizon by a wall of rose-colored rock.
There are fertile cultivated areas & sand dunes.
The capital Mut, houses the Museum of Inheritance, a traditional house contains sculpted clay figures that showing different aspects of family life & Dakhla culture.
Al-Kasr, about 35 km. from Mut, was originally a Roman settlement which later became the medieval capital of Dakhla. The old town is a labyrinth of mud-walled alleys separating houses with carved wooden lintels; there is also an old mosque, Bir al-Gabel, probably Ayyubid, & there is a salt lake.
Here you can visit the 1st century al-Mozawaka tombs.
Dair al-Hager is a temple, originally dedicated to the Theban Triad, rebuilt by the Romans.
At Bashandy you can visit Roman tombs & a factory of carpets.
Balaat village, is a trading post with ancient Nubia, & at nearby archeologists uncovered mastabas from the 6th dynasty.
4- Farafra
Farfra Oasis, known as ta-iht or the Land of the Cow in pharaonic times, is a single village where you can see:
* Palm groves & hot sulphur springs at Bir Setta & El-Mufid Lake.
* Kasr al-Farafra & Kasr Abu Minkar which are remains of Roman buildings.
* Badr, a combination house, museum & studio, exhibiting paintings & ceramics of the local artist Badr, is situated in a garden full of sculptures made from objects of the surrounding desert.
* Trips by jeep & camel treks from here to the White desert can be arranged.
5- The White Desert
The white Desert is something that no visitor should miss.
Travelers coming from Bahariya will cross through the Black Desert, passing tht tiny oasis of El-Hayiz on the way. Nearby there are some Roman ruins, including a Coptic church. Once through al-Sillim Pass you enter the white Desert, a unique landscape of surreal wind-eroded rock formations which is magical at sunrise & sunset in particular.
6- Siwa
Siwa is one of the most fascinating oases. On the edge of the Great Sand Sea.
Its rich history includes a visit from Alexander the Great to consult the oracle of Amun in 331 BC.
Siwans have their own culture & customs & they speak a Berber language, Siwi, rather than Arabic.
Many women still wear traditional costumes & silver jewelry like those displayed in The Traditional Siwan House Museum.
Climb through the ruins of the old city to see outlying sights such as:
* Aghurmi settlement founded originally about 1200.
* Palm groves, walled gardens & olive orchards.
* Fresh water springs & salt lakes.
* Tombs of Jebel al-Mawta (The Hill of the Dead) date back to 26th dynasty.
* The Oracle of Amun, an acropolis temple dating from around 550 BC.
* Cleopatra Bath, a deep pool of bubbling water.