Karnak Temples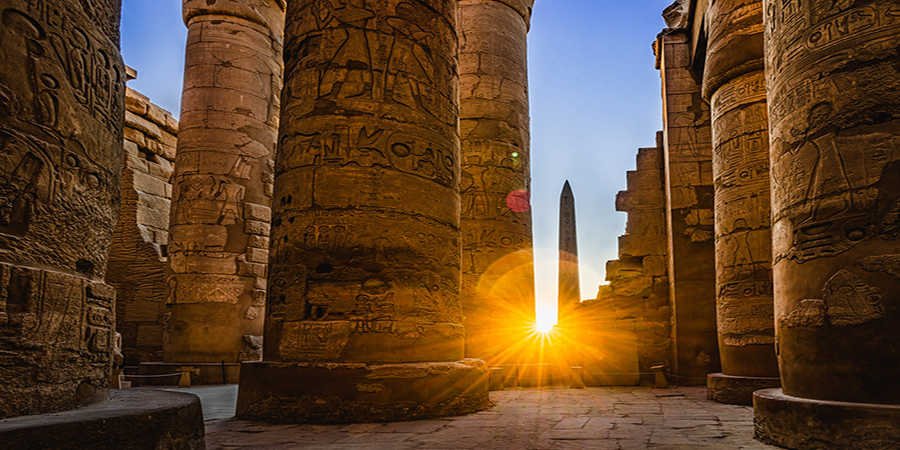 Karnak Temples Considers As A Civilizational And Cultural Signs Of Luxor City In Egypt. Where, Every Successive King Of Kings Tried To Make His Temple The Most Magnificence Temple To Add It Advantage More Than What The Former Did. So, It Turned To An Evidence Andconstruction Reveals The Levels Of Ancient Egyptian Art And Characteristic Pharaonic Architecture Development.
It Is Located At West Side Of The City North Of Luxor Temple Far From It Of About 3 Km, And Considers As The Main Temple Of Amon. Where, Surrounded With A Wall From An Adobe In The Form Of Rectangle Length 550 M, Width 480 M, And Thickness 12 M, And Has Been Surrounded By Eight Gates, The Wall Has Taken The Wave Image Because Of:
Religious Reason: Like The Eternity Water.
Architectural Reason: To Strength The Wall.
It Is Wrong To Call The Karnak Temples Under This Individual Name. Because, They Are More Than One Temple, Where If We Are Going Inside The Surrounded Wall We Will Find More Than One Like, Khonso Temple, Monoto Temple, Aton Temple, Moout Temple, And A Lot Of Compartments, That Means It Is Wrong To Call Them Under Temple But Temples.
They Are Considering The Biggest Temples In The Old Egypt And The Luxurious One, Also May Be The Biggest Than Any Coetaneous Temples In The World. They Are The Honest Record For The History Of Old Egypt As For The Civilization In Particular And The Old Arab Mashreq Zone And Generally What Is Located Beside It.
Egyptian Ruler And Others Have Added A Holy Architectural Buildings To This Temple Since Egyptian Middle State ( 2050 B.C) To The Batlamic Age About Two Thousand Years. Which Makes It A Great Historical Document , Where The Researcher Can Find What Is Looking For Through Old Egyptian Inscriptions And Texts Which The Pharaohs Decorated By Them Its Walls, Which Also Indicates To The Old Egyptian Ages And Its Relation With The Old Arab Mashreq.
The Temple Isn`T Built By One King, But A Lot Of The Modern State Kings Who Have Participated In Its Building, And Who Are Came After Them, It Is Named By Al-Karank Since The Middle Ages, Where The Old Egyptian Adopted The Religious Belief Which Saying That Gods Are The Source Of Everything In The Humanity Life And The Existence. So, The Victory Is A Grant From God To The King By Giving Him His Sword And Knowledge To Put The Plan And Makes The Victory
Http://Www.Bookingcruise.Net/Karnak-Temple-3.Html .