Egyptian Restaurants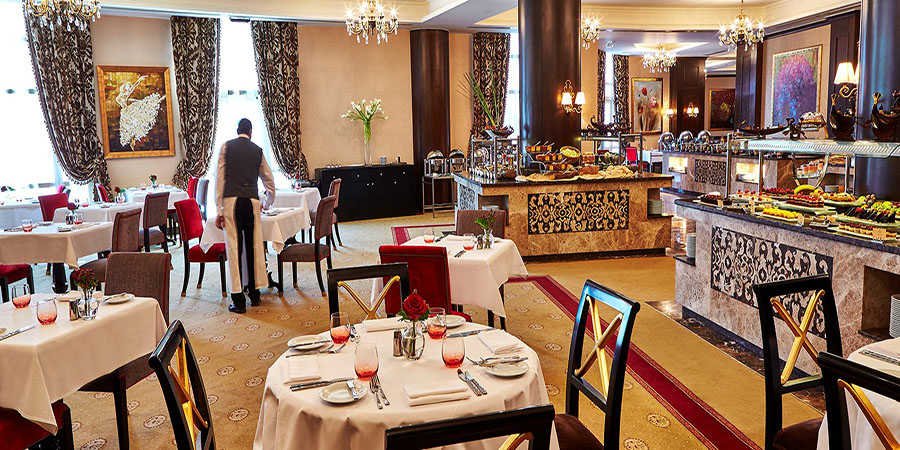 Most Egyptian Restaurants Use Native Ingredients And Offer Fruits And Vegetables In Season. Menus Are In Both Arabic And English. In Large Restaurants, Waiters And Waitresses Speak English, French And Possibly German And Italian; These Restaurants Serve A Mixture Of International Cuisines But Often Include Egyptian Or Middle Eastern Fare As Well.
Egyptian Restaurants In Larger Cities Are Of Various Types Of Restaurants Offering A Variety Of Cuisines. Besides The Traditional Egyptian Food. Here Are Also Many Restaurants Serving Italian And French Food. Nowadays There Are Mexican Restaurants. There Is Also A Big Boom In Asian Food With Japanese And Sushi Restaurants. There Are A Few Restaurants Serving Indian And Chinese Food.
Native Food
In Egyptian Restaurants Egyptian Cooks Use Local Ingredients And Modified Greek, Turkish, Lebanese, Palestinian & Syrian Traditions …………..
Most Egyptian Cuisine Restaurants Are Delicious.
Food In The South Usually Is Zestier Than That In The North.
These Are Some Of Main Objects Of The Egyptian Food In Egyptian Restaurants
Bread (Aysh); Comes In Several Forms; Aysh Shami , Baladi , Shamsi ….Etc.
Beans (Ful); Ful Midamess, Mixed With Eggs, Mashed With Tomatoes, Sauce & Onions ….Etc.
Tamiyya Or Falaafil; Beans Are Soaked, Minced, Mixed With Spices, Formed Into Patties & Deep Fried. Sometimes They Are Garnished With Lettuce, Tomatoes, Or Tahini Sauce & Stuffed Into Bread For The Sandwiches.
Molokhiya; A Leafy Green Summer Vegetable, It Is Served With Or Without Rice, Pieces Of Chicken, Rabbit, Or Lamb.
Rice ( Roz ) Cooked In Different Ways. Rice & Bread Form The Body Of Egyptian Main Courses.
Salads ( Salata ); Green Salad , Tihina, Baba - Ghanoug
Soups ( Shurbah ) Vegetable (Khudaar) , Chicken , Lentil
Meat ( Lahhma )
Chickens ( Firaakh ) & Pigeons ( Hamaam ) ; Grilled Or Stuffed With Rice & Grilled.
Fish ( Samak ) They Do It With Many Ways
Torly; Mixed Vegetable Stew, Made Of Potatoes, Beans, Peas, Onions, & Lamb Or Beef.
Kebab & Kufta; Chunks Of Lamb Flavored With Spices & Onions & Roasted.
Stuffing (Mahhshi); Green Vegetables, Such As Cabbage Or Grape Leaves, Filled With Mixtures Of Spiced Rice With Or Without Ground Meat.
Cheese (Gibnah); Comes In Some Varieties, E.G. Gibnah Beida, Gibnah Rumy, Mish Which Is Dry Spiced Cheese.
Yogurt (Laban Zabadi), Fresh & Unflavored Can Be Sweeten With Jams, Honey, Or Preserves.
Koshary; A Famous Egyptian Dish , A Traditional Egyptian Meal That Consists Of A Combination Of Rice, Macaroni, Pasta, Lentil, Chick Peas, Garlic & A Spicy Tomato Chili Sauce, All Covered With Fried Onions And There Is Some Egyptian Restaurants For ( Koshary ) Only
Musakaaa; Egg-Plant Or Aubergine, Peppers, Potatoes, All Cooked With Tomato Sauce.
Bossarah; Mashed Beans Well Cooked With Molokhiya, Onion, Garlic, Topped With Spices & Fried Onion.
Desserts
Egyptian Desserts Are Varied & Have Very Good Taste. For Example;
Pastry
Puddings
Baklava
Basbousa
Kunafah
Umm Ali
Mehallabiya
Ice Cream