Lake Nasser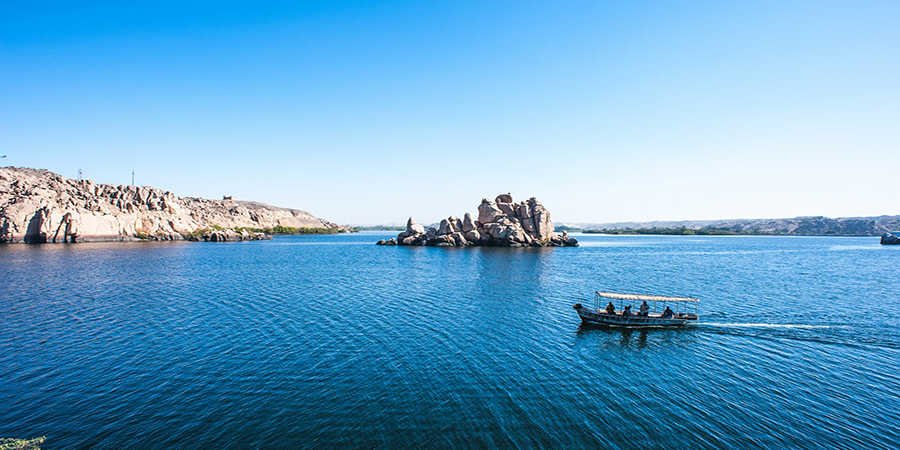 Worldtraveltime Here Gives You A Detailed Study About One Of The Most Important Areas South Of Egypt, It Is That Area Which We Call Nubia That Big Part Of It Covered Nowadays With Lake Nasser South Of Aswan.
The New High Dam In Aswan Created A Big Lake Called Lake Nasser. It Is A Reservoir Behind This Edifice, The High Dam, & Now It Became A Vast Area Linking The Southern Part Of Egypt With The Northern Part Of The Sudan.
Lake Nasser Is About 500 Km. (311 Miles), Averaging 10 Km. (6.20 Miles) In Width, Lake Nasser, As A Reservoir, Stores Water To An Average Depth Of 180 Meters (590 Feet).
Lake Nasser Allowed The Planting Of 2 Million Hectares Of New Agricultural Land.
Lake Nasser Is Also Contains A Large Fish Farm. Water Of Lake Nasser Is Sweet & Pure Enough For Many Species Of Fish, Which Led To Existing Of Good Fish Industry In This Area.
Lake Nasser Behind The New Aswan High Dam Made Possible A Better Control Of Nile Water, But Allowance Have Been Made For Evaporation & The Way The Dam Prevents Fertile Silt From Traveling Downstream To Nourish The Land.
The 2 Temples Of Abu Simbel, With Other Temples, Were Submerged But For An Internationally Financed Operation To Move It & Its Statues Up The Cliffs. Some Nubian Villages Were Also Moved To Higher Ground.
Nubia Came Under The Influence Of The Aswan Dams & Lake Nasser. They Resulted In Reversing The Natural Regime Of The Nile Whereby Low Water Level Occurred During Summer Flood, Which Was Otherwise The Period Of High Water, & High Water (Reservoir) Replaced Periods Of Low Water, & The Cultivation Season Was Shifted To Summer Period.
The Nubians Were Compensated For The Loss Of Agricultural Land. They Had To Build New Homes Up The Steep Hilly Sides Of The Valley Especially After 1933. When The High Dam Was Built There Was No Room For Nubians To Retreat & Had To Be Evacuated To New Villages Built By The Government Around Kom Ombo Basin North Of Aswan City.
The Waters Of The Huge Lake Nasser In 1981 Engulfed All Of Old Nubia Except Out-Crops Of Hills Over 180 M. Above Sea Level.
More Than 20 Temples Were Rescued By Unesco. Worldtraveltime, Over Here Is Showing You Some Of Them In A Briefed List:
Abu Simbel
Temple Of Amada
El-Derr
Aniba
El-Sebua'a
El-Dakka
Qasr Ibrim
El-Maharraqa
Quban
Kalabsha
Beit El-Wali
Gerf Hussein
Kertassi
Toshky's Project Is About 280 Km. South Of Aswan & Lake Nasser. A Canal Called Zayed Canal Was Dug Beginning At Lake Nasser. The Canal Had To Reclaim More Than 500 Thousand Acres As A 1st Stage. A Giant Pumping Station Was Built At The Source Of The Canal To Raise Water Of Lake Nasser To Its Level.
Dear Guest, If You Want To See This Area, Worldtraveltime Will Recommend The Cruise Behind The High Dam. 3, 4, Or 7 Nights Will Enable You To Explore The Area In Addition To Some Fun.