Nile
River Nile in Egypt the most important things in Egypt with the river Nile the life start in two banks of the Nile all the Egyptian people depend in their life on river Nile
Named "Nile" this name attributed to Greek term neilos (Greek: νειλος), also called in Greek aigyptos name also (in Greek: αιγυπτος) is one of the origins of the name of Egypt European terminology (Latin: aegyptus).
The river Nile the first point for river Nile in the south near city of Abu simple and from this point the Egyptian start to depend on the nile the Egyptian use the river Nile on many things
The most important things in agriculture with thw water of the nile the Egyptian make millions of hectar from the land make it green
The Nile Basin is indefinite time called on Eleven African countries through which the River Nile to State of Eritrea as an observer; both those that are being derailed, breaking its territory, or those in which there is on its territory the headwaters of the River Nile, or those that are being across its territory feeding rivers of the River Nile. Nile Basin covers an area of 3.4 million km² of upstream and downstream in Lake Victoria in the Mediterranean.
The Nile Basin countries
list of Nile Basin countries arranged geographically from the north and east to the South and West:
Egypt, Ethiopia Sudan, south Soudan , south Sudan ,Uganda
Kenya , Tanzania , Rwanda , Burundi Democratic Congo , Eritrea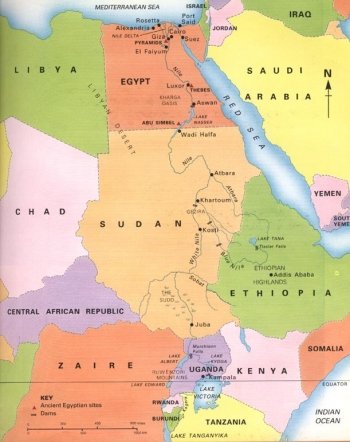 As Herodot said Egypt is the gift of the Nile because if the Nile in Egypt all Egyptian can find food , water ,electricity in all over Egypt and after president Naccer Build high dam in south Egypt in Aswan and now the Egyptian can use all the water of the Nile in all of the life affairs